THE WORLD NEEDS WHAT YOU ALONE HAVE TO OFFER
Monthly Biblical Coaching to help you clarify your goals and grow your influence—so you can confidently pursue your God-given Dreams

 CREATE A LIFE YOU LOVE
Create clear and compelling goals you are excited to tackle each day, and pull you forward effortlessly.
LEARN STRATEGIES THAT WORK
You don't have to waste any more time & money trying to grow your influence, we'll give you the exact steps you need to become a leader people love to follow.
BECOME THE HAPPIEST PERSON YOU KNOW
You'll have a proven filter to clarify all of your thoughts, so you can become the joy-filled, success-minded follower of Christ you know you're meant to be.
NOW I AM A SPEAKER!
When I started the program, I wasn't sure what to expect.  But it got me even more excited about what I'm creating for people!  It was extremely encouraging, and gave me practical and tangible ideas, and made all of the things I thought were complicated seem simple and easy.  Immediately I started putting my ideas into action— and now I am speaking and serving more people as a result!
—RACHEL, Buisness Owner
READ MORE...
Because you and I both know a lot of people get inspired by one book, or one video, or one insight… then they lose that fire! and MOMENTUM as they get back to real life.
That's because real spiritual and personal growth TAKES CONSISTENCY.
And just like athletes need a coach helping them steadily climb to higher levels, so do you.
That's why we're inviting you into our Monthly Coaching Community
Every month, we'll roll out a free training for you. We will teach our latest strategies and then conduct coaching and Q&A.
Our students report HUGE gains in their motivation, focus and confidence every month. I mean, who else is keeping you fired up, focused, driven to be your ABSOLUTE BEST!?
WHAT'S MY INVESTMENT?
How much is having unclear goals costing you?
How many potential people are not being impacted with the message you were born to provide them?
How many of your efforts are half done because you lack the confidence to act boldly?
How many people were you born to reach, but they can't find you?
A lack of clarity around your goals and dreams may already be costing you a great deal…
As well of robbing us the opportunity to learn, grow and be transformed by the difference you were meant to make.
We need you to become everything God designed for you to become—because we need the message God put inside you, and you alone.
WHEN YOU JOIN YOU WILL RECEIVE:
January: How to Set Goals for Normal People (Value $197)
February: Master Your Morning Routine (Value $87) & The Ultimate Guide to Love, Dating & Relationships (Value $147)
March: Neuroscience for Parents: How to Raise Amazing Kids (Value $147)
April: Grow Your Online Influence & Build a Platform with Meaning (Value $497)
May: Hearing the Voice of God (Value: Priceless)
June: Write a Bestselling Book (Value $997)
July: Step-by-Step Guide to Attracting Life Changing Mentors (Value $97)
August: Master Personal Finance: How to Build Wealth (Value: $497)
September:  Double Your Self-Esteem & Confidence in Christ (Value $97)
October: Make Money from Home: How to Start an Online Business (Value: Your Sanity)
November: Discover Your Purpose: The 4 Immutable Keys to Unlock and Unleash Your Unique Potential (Value $297)
December: Think Like a Leader: The #1 Key to Guarantee Success (Value $97)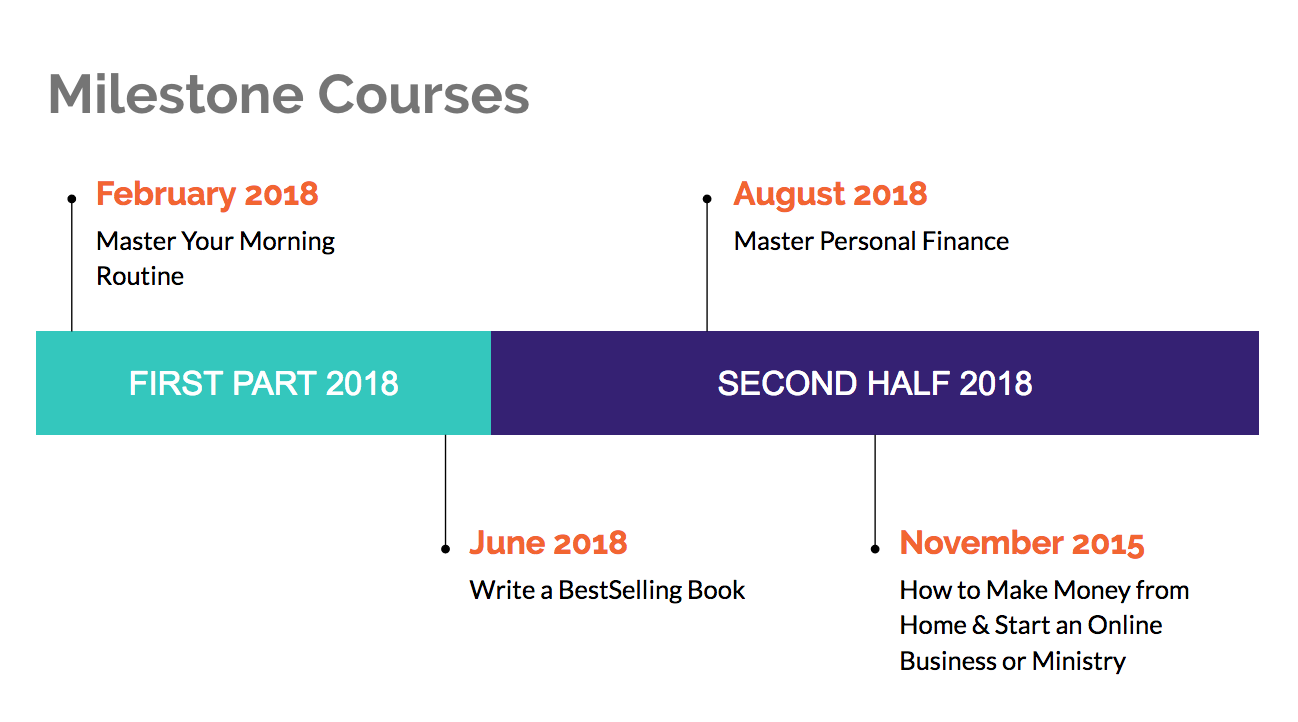 CANCEL ANYTIME!
$1 Trial for 7 Days
$29/mo billed automatically after unless
you cancel by replying to any of our emails.